Four-star DE Nigel Smith is a Sooner: "I'm ready to bring DLU to Oklahoma"
For the sake of their collective sanity and their program's future in the SEC, Sooner fans had been yearning for an elite defensive lineman who didn't engage in any subterfuge or drama throughout the recruiting process.
They got their man in four-star defensive end Nigel Smith, who announced his long-anticipated commitment to Oklahoma on Friday evening. Smith went public with his decision amidst senior night festivities at Melissa (Texas) High, officially closing the book on a recruitment that had always truly pointed in one direction. The Sooners had led for Smith since the spring of 2022, when he made a series of unofficial campus visits and established a strong early connection with Miguel Chavis and Todd Bates.
"I'm ready to bring DLU to Oklahoma," Smith told OUInsider.
Smith is the 22nd scholarship commit of the cycle for Oklahoma and the fourth in the defensive trenches, as he joins five-star DT David Stone, four-star DT Jayden Jackson and three-star DE Wyatt Gilmore in a group dubbed the "Power Line." The Sooners also have a pair of nationally ranked players, three-star ATH Andy Bass and three-star DE Bergin Kysar, committed as walk-ons. With the addition of Smith, the Sooners continue to close in on a top-5 recruiting class in the 2024 cycle.
In the months that followed, the Sooners maintained their momentum in Smith's recruitment, and no school mounted a serious charge despite some variegated noise for Ohio State, Penn State, Texas A&M and even Texas. Oklahoma hosted Smith for an official visit at the ChampU BBQ in mid-June, and it became all the more apparent in the aftermath of the visit that Smith's commitment to OU was a matter of when, not if. He had long stated that he'd wait to commit until his senior night, so although the Sooners held a commanding lead throughout the process, they had to wait with patience for the elite defender to make it official.
At 6-foot-5 and 260 pounds, Smith checks in as the No. 82 overall player and No. 5 strong-side defensive end in the nation, per the latest Rivals250 rankings. Rivals national recruiting analyst Cole Patterson is among those who believe Smith won't take long to make noise at Oklahoma once he enrolls.
"Nigel Smith is a big, strong and physical defensive lineman capable of playing on the end or inside," says Patterson of the Sooners' newest commit. "He wins at the point of attack and often creates havoc at and behind the line of scrimmage. Smith is a high-IQ football player that is seemingly always in position to make the winning plays. His versatility and college-ready frame point to him carving out a role in Brent Venables' defense quickly after getting to campus in Norman."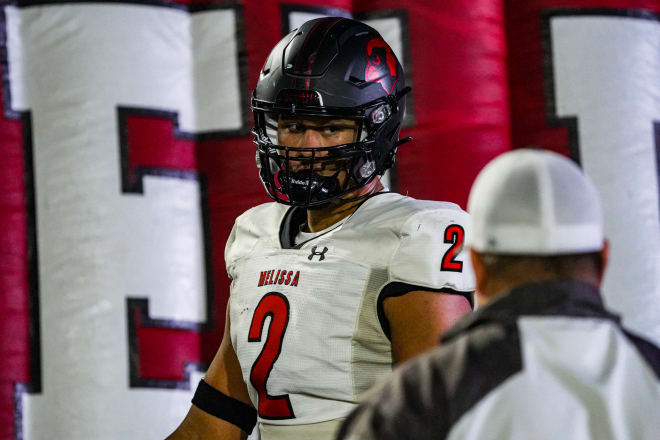 Stay tuned for more coverage from Rivals and OUInsider.com, as co-publisher Brandon Drumm is on site at Melissa High and will have additional quotes from Smith on his decision.