Mid-South Spotlight: Four tough rankings questions
HOW HIGH DOES LAGWAY MOVE UP?
DJ Lagway is already highly thought of by Rivals, as he landed at No. 40 overall in the preseason rankings update. But he is more than due for a bump after the senior season that he has enjoyed in the Lone Star State.
The Florida commitment has answered the bell in a big way during his final year on the prep level. Lagway threw for 3,551 yards and 48 touchdowns while completing better than 76 percent of his passes through the air. Additionally, Lagway accounted for 697 yards and 11 touchdowns on the ground. He found the end zone six times in the regular season finale, too.
Furthermore, Lagway led Willis (Texas) to its first undefeated 10-0 regular season and a win in the first-round of the state playoffs this past weekend – his first time playing on the postseason stage. Whether you are looking for tangibles or intangibles, Lagway checks all the boxes that you could want in a franchise quarterback.
A serious conversation must be had about moving him up to the five-star tier.
*****
HOW MANY FIVE-STARS IN TEXAS?
This is a big question because there are already three five-star prospects in the state with the rankings update nearing. Defensive end Colin Simmons leads the pack with wide receiver Micah Hudson and linebacker Justin Williams close behind. All three have done nothing but back up their status among the nation's elite.
But who could join them? There's more than a couple of candidates. Kobe Black is considered the nation's No. 3 cornerback. Bryant Wesco is right on the verge of the top 32 recruits. Xavier Filsaime is a big-time safety on the cusp. Lagway has made his case, but so has dynamic, do-everything athlete Terry Bussey who has had yet another remarkable season.
It's difficult to say how many recruits from one state will land inside the top 32 when all is said than done. But there's no doubt that Texas will produce its fair share of five-stars this cycle.
*****
WHO IS UNDERVALUED?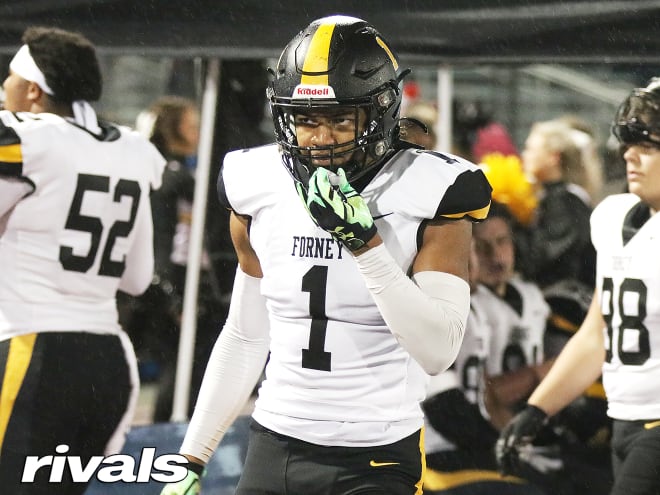 The Mid-South is always loaded with talent, thanks to Texas and Louisiana every year. With that said, there are a few prospects that are undervalued and are due for bumps in their rankings at our next update.
In Mississippi, Ole Miss commitment William Echoles has blossomed from a strong offensive line prospect into a top defensive line recruit as a senior. Alabama has come calling after a tremendous senior campaign at Houston (Miss.), the home of All-Pro defensive lineman Chris Jones.
Oklahoma commit Andy Bass was offered to play quarterback at Syracuse, but he committed to the Sooners as an athlete that can do a little bit of everything on offense. Bass is electric with the ball in his hands and has showcased legitimate next-level ability as a senior.
Oregon pledge Aaron Flowers is one of several defensive back prospects within the Lone Star State that has the ability to play early on the next level. He's made his mark in a big way as a senior and could certainly push higher in the Rivals250.
In Arkansas, Courtney Crutchfiled is a playmaking weapon that has shined in 7-on-7 and game settings. A recent Razorbacks decommitment, Crutchfield is one of the more intriguing available prospects in the region.
*****
WHO IS THE NO. 2 QB IN TEXAS?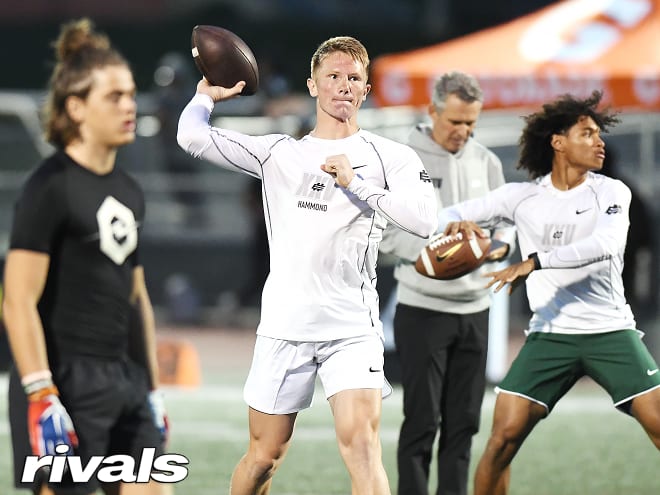 Lagway has established himself as the top dog at the quarterback position in the state of Texas. The bigger question is who is behind him in the rankings? There are several candidates for that nod.
Right now, Oklahoma commit Michael Hawkins holds that spot. Hawkins, playing at Frisco Emerson this season after starting at powerhouse Allen, has had a very fine senior campaign, leading his team to the playoffs and advancing in the postseason. He's a two-time Rivals Camp Series MVP and he's carried that success to the field. Hawkins can beat you with his arm and legs.
Others have cases too, though. Texas Tech's Will Hammond is putting up video game numbers week in and week out while displaying good arm talent that will fit in well with what offensive coordinator Zach Kittley wants to do. Wisconsin pledge Mabrey Mettauer is a big-armed quarterback that has played in and won big games, which should prepare him for the Big Ten.
TCU commit Hauss Hejny is the definition of a gamer and has a state title win as a starter, drawing comparisons to Max Duggan. Purdue commit Marco Davila is another player that we have been high on and looks like an ideal fit for offensive coordinator Graham Harrell.
Texas commit Trey Owens, Georgia Tech pledge Graham Knoweles and Louisville's Deuce Adams all offer traits to like, too. All in all, Lagway leads the pack but there's some deep talent at the position in the state.