Rivals Rankings Week: Five-Star Countdown for 2024 class
It's Rivals Rankings Week for the 2024 class as we update the Rivals250, position and state rankings heading into the fall high school season. We kick things off as always with the Five-Star Countdown. We will count down all 21 five-stars until we end at No. 1. Rivals recruiting director Adam Gorney offers his thoughts on each five-star.
*****
Rivals Rankings Week
Sunday: Who should be No. 1?
Monday: Five-Star Countdown
Tuesday: New Rivals250 revealed | Gorney's thoughts | Ten on the cusp of five-star status
Wednesday: Offensive position rankings
Thursday: Defensive position rankings
Friday: State rankings
*****
20. QB AIR NOLAND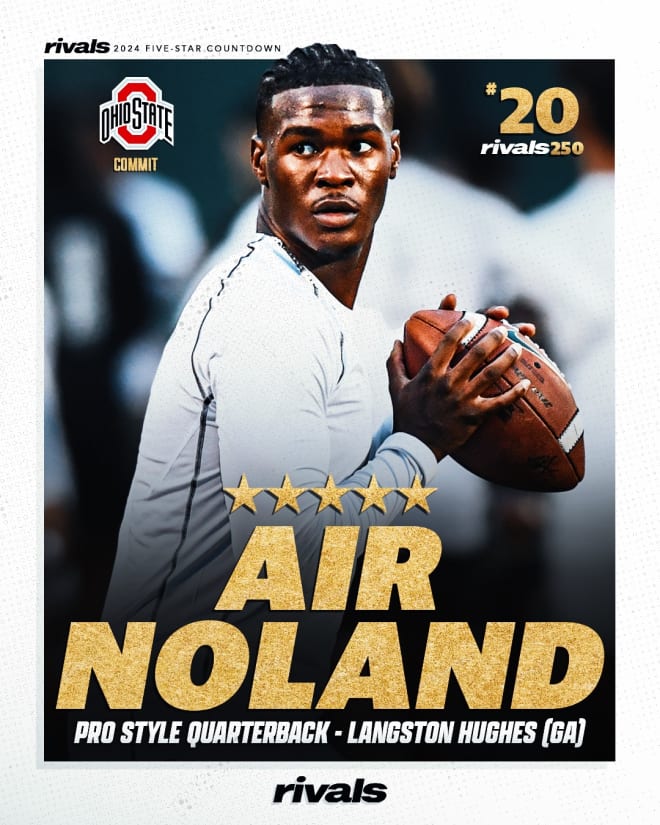 Gorney's Take: An argument could be made that the Ohio State quarterback commit was the most consistent at the Elite 11 through every drill and every test given to those players. The lefty is so compact in his delivery, spins it perfectly nearly every time and had no problem timing up with receivers and putting it on the money every time.
There's another ancillary benefit to consider when it comes to Noland: He's going to be surrounded by incredible receivers when he gets to Columbus, which will make his job easier.
SHARE YOUR THOUGHTS WITH OHIO STATE FANS AT DOTTINGTHEEYES.COM
*****
21. DB PEYTON WOODYARD
Gorney's Take: One of the biggest recruiting stories of the summer came in recent days when the five-star safety flipped his commitment from Georgia to Alabama. The Bellflower (Calif.) St. John Bosco prospect will be closely watched this season, and there will be pressure from others for these final five-star spots.
Woodyard is incredibly talented but so are many others. A big fall season and a strong showing at the all-star games will be crucial.
SHARE YOUR THOUGHTS WITH ALABAMA FANS AT TIDEILLUSTRATED.COM