Three-Point Stance: Deion at Colorado, Rhule at Nebraska, Midwest freshmen
Rivals national analyst Clint Cosgrove has thoughts on Deion Sanders' roster overhaul at Colorado, how Nebraska fans need to have patience with Matt Rhule and a few Midwest true freshmen to watch as they begin their college careers.
MORE THREE-POINT STANCE: Highs and lows in ACC, the portal and ACC, flip targets
*****
RUMOR MILL: Latest buzz surrounding top prospects
FINAL 2023 TEAM RANKINGS: Comprehensive (overall) ranking | High school/JUCO ranking | Transfer portal ranking
CLASS OF 2024 RANKINGS: Rivals250 | Team | Position | State
CLASS OF 2025 RANKINGS: Rivals250 | Team | Position | State
TRANSFER PORTAL: Latest news | Transfer portal player ranking | Transfer portal team ranking | Transfer Tracker | Message board
*****
1. Deion Sanders' impresses with overhaul. 
Deion Sanders is a polarizing figure. Regardless of whether you love him or hate him, there is no denying that the man is a perennial winner in everything he does. He talks the talk because he knows he can walk the walk. Whether it be showing up at the NFL Combine and running a 40 so fast that he proceeded to pick up his bags and walk out of the building without doing anything else, or more recently overhauling arguably the worst Power Five conference roster in a single offseason to become a legit championship threat, the man says what he believes and does what he says.
I learned from former Wisconsin head coach Barry Alvarez a long time ago that if your mouth writes a check your ass better be able to cash it, and Coach Prime is, well, a prime example of doing exactly that.
I mention all of this to make my point that Prime is in a league of his own. He is a one of a kind, and the notion that any other coach would be able to – not only get away with a roster overhaul the way he did it at Colorado, but also have success in doing so – is not accurate. This will not be a continuing trend in college football. Athletic directors and search firms that see the early return on athletic director Rick George's investment in a coach with Sanders' persona is not replicable. Yes, there are ways to turn a program around quickly due to the transfer portal, but even then certain pieces already have to be in place.
I hear a lot of talk about the Deion Sanders method of changing a program overnight and how it could become the new normal in college football, but I can assure you that will not be the case. There was one man capable of doing what Sanders has done and that is Prime himself. Any other school that tries to replicate or attempt this method will likely set its program back. But in a win-now world I would not be shocked to see another school try – and fail.
*****
2. Nebraska needs to have patience with Matt Rhule.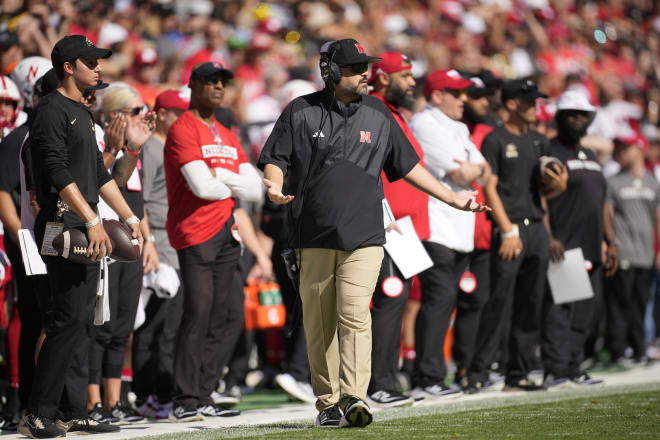 "This is what you get when you hire me. It's not going to be a quick fix, it's not gonna be overnight," Matt Rhule said in his press conference following an 0-2 start. Having spent time on Nebraska's staff I know firsthand that Husker fans likely cringed and may have even felt insulted by those comments.
Nebraska, with one of college football's most passionate fanbases, has continued a record sellout streak despite the program's struggles for the better part of a decade. And Nebraska fans feel they deserve more.
But, the reality of the situation is that the glory days of Nebraska football occurred before today's top recruits were alive and without a plethora of elite talent in its back yard, this is a total rebuild and it is going to take time.
I'm not sure the Huskers' new head coach knew what he was walking into when he became the state's most scrutinized figure and was heralded by some as an instant fix to everything that has gone wrong with the Nebraska in recent years. But I truly believe he is the man for the job.
For Nebraska to come close to replicating its past success of the Tom Osborne years, it is going to take a partnership among fans, coaches and players. Nebraska is unique in the sense that the influence of the fans has an actual effect on the product that is put on the field. Nebraska tried to win with a coach who had taken an NFL team to the Super Bowl and failed. It tried to win with a coach who had won with less fertile recruiting ground and failed. It tried to win with a legendary former player who experienced coaching success elsewhere and failed. Now it is trying to win with a coach who has proven to take teams from the depths of college football and made them winners again.
Rhule can and will win, if given time. But this is a group effort that extends far outside the coaches' offices, and patience plus support is the key to success if Nebraska wants to compete for championships again.
*****
3. Midwest freshmen making an early impact.
One of the catalysts to Colorado's upstart team is the play of Edwards, a true freshman. Through two games the former four-star has scored four touchdowns, rushed for 79 yards and gained another 143 through the air.
The stats are great, but his impact has been greater and few would argue that Edwards is a star in the making. Although he was highly rated coming out, he has already proven to be better than I thought he would be and will likely outperform his lofty ranking.
Taylor showed special traits coming out of high school, which led me to name him the biggest Big Ten recruiting steal in the 2023 class. After Minnesota's slow offensive start in Week 1 against against Nebraska, the staff knew it was time to unleash some young playmakers who may not quite be ready but were needed for the team to take its next step.
A Game 2 contest against Eastern Michigan was the perfect time to experiment, and the results couldn't have been better. Taylor was thrust into a main role in the Gophers' offense, and he rushed for 193 yards with one touchdown to go along with two receptions for 13 yards – a performance that led to Big Ten Freshman of the Week honors.
While I likely wasn't high enough on Edwards, my belief in Taylor looks good now.
We knew Thieneman was good and would likely be the classic overachiever who eventually outplayed his ranking. I'm not sure we could have predicted his impact to be this big, this quickly, however.
The former three-star is off to a fast start and has established himself as an early standout on Purdue's defense with 17 tackles and two interceptions through two games. Like Taylor, Thieneman has already been named Big Ten Freshman of the Week.
Moore may have not won the starting job out of the gate for UCLA, but the former five-star from Detroit Martin Luther King earned the nod in Week 2, and things couldn't have gone better. Following a Week 1 win during which he split time at quarterback and completed 7-of-12 for 143 yards and two touchdowns with one interception, Moore took the reins against San Diego State in Game 2.
During his first start Moore was outstanding while throwing for 290 yards and three touchdowns with no interceptions. This is likely just the beginning for a quarterback who has always been the ultimate gamer.