Tuesdays with Gorney: Five thoughts on the Comprehensive Team Rankings
The new Rivals 2023 Comprehensive Team Ranking, released today, blends the 2023 high school and transfer rankings into one ranking to crown an overall recruiting recruiting champion (Alabama).
In today's Tuesdays With Gorney, Rivals national recruiting director Adam Gorney offers his thoughts on the process and how we got here.
TRANSFER PORTAL CHANGES RECRUITING
College football recruiting has been transformed since the transfer portal has become such an essential part to building a roster. So we needed to develop – from scratch – a product that reflected those players in a ranking to accurately reflect how each program across the country is doing in recruiting.
There were many challenges, debates, disagreements, heavy lifts from the technology side and tons of hours put in to figure out how to most accurately represent each recruiting class, first from the high school side (which we've been doing since 2002), the transfer side and then the comprehensive ranking which represents both.
Without getting too into the weeds on how the computer actually ranks transfer players as part of a class (you can find that in this FAQ) here were five considerations we made along the way to get to this day:
*****
RANKING TRANSFERS CAN BE TRICKY
High school rankings are hard enough but there are certain rules that we follow: Those rankings are based off expected college performance and NFL Draft position. The challenging part comes when we need to figure out who projects where and trying to predict the future in anything – recruiting rankings, stock picking, fantasy football draft – is hard enough.
When it comes to transfers, there are specific difficulties that come into play: How do we weigh a transfer with one year of eligibility remaining versus one with three or four? Should a very talented player be nicked in his ranking just for transferring (let's say Caleb Williams or Mario Williams for example) or does it matter? What caused the transfer in the first place and is it a red flag on the player or is it a positive that the player had the courage to make a move from a program that didn't suit him best?
Now throw more than 1,600 ranked players in our transfer portal rankings, each with their own story and situation, and try to make it as accurately reflected as possible.
It's a tough haul.
*****
HOW MUCH SHOULD WE WEIGH TRANSFER CLASS?
This has been a point of discussion along the way – should transfer classes (many players in it who have one year of eligibility remaining) hold equal weight to a high school class that can be developed over the next four or five years?
And should a transfer that we know has superstar potential – again, let's use Caleb Williams as an example – be ranked solely on his expected college performance and NFL Draft status (like high school players) or should the fact he transferred be a concern, if it is for NFL teams?
There are also schools that intentionally loaded up in the transfer portal such as Colorado, which signed 50 players, or Charlotte, which signed 33, and stayed away from high school rankings as new coaching staffs look to make a mark early on.
Should all of those transfers be included in a team ranking or should we cut it off at 20 (like we do in the high school rankings), or 25? 30? All those factors had to be worked through.
*****
WHY WE CREATED THIS RANKING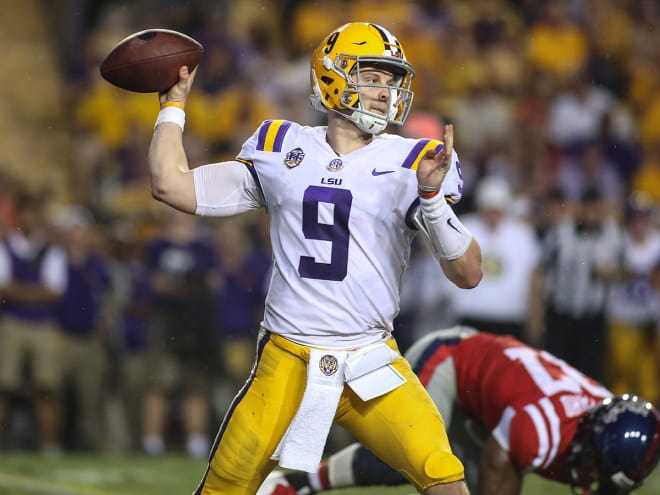 College football has drastically changed in the last few years. Just look at the recent conference realignment, along with NIL and the transfer portal. It has become such a crucial part of recruiting.
I talk to coaches all the time. Some love the portal. Some despise it. Some think it's revolutionizing recruiting and some think other than a few cases high in the rankings it's a scrap heap of players that couldn't work out at their other programs for one reason or another.
But instead of fighting or ignoring the change, we have to embrace it. We want to most accurately reflect the recruiting class of each school. That now goes well beyond just the high school class as we've all seen how transfers can quickly transform rosters on the college level.
Heisman Trophy winners Baker Mayfield, Kyler Murray and Joe Burrow were all transfers. All three were No. 1 NFL Draft picks.
The transfer portal is here to stay so our rankings should change with the times to reflect high school rankings alone, transfer portal rankings alone and then a comprehensive ranking to reflect both.
*****
WHO'S DOING IT WELL IS ALSO UP FOR DEBATE
If beauty is in the eye of the beholder then the debate over who's doing the best in recruiting will only be magnified now by a comprehensive team ranking.
We've noticed that first-year coaching staffs – at Colorado, Louisville, Auburn, Arizona State and Charlotte in particular – have utilized the portal to nearly completely revamp their rosters. There is a reason why new coaches had to be brought in and the portal gives these new staffs access to ready-made players who are looking for a new shot. Coaches no longer need to bring in 25 high schoolers, hopefully develop them over years and see what comes of it.
But there are other teams that are hardly accessing the portal at all. Texas took five transfers. Kansas State, the Big 12 champs, took six. Penn State, seven. Alabama, five.
So as we worked toward a comprehensive ranking, we didn't want to obliterate teams who opted to focus on high school recruiting over the portal and we didn't want to wrongly inflate teams who filled half their roster with transfers while sacrificing high school recruiting. We think the comprehensive is a more accurate representation of both.