Tuesdays with Gorney: It's time for Texas A&M to tap into its potential
Texas A&M athletics director Ross Bjork held a 25-minute master class Sunday night talking to the media about why Jimbo Fisher was fired, the expectations for the Aggies and the path forward.
It was professional. It was thoughtful. It was pointed and sober.
This was not the AD role of standing up there with a new coach and promising championships and the this-is-the-one-true-genius-that-will-bring-us-a-national-title talk. That might come when a new coach is hired, though.
This was an advanced-level mastery by Bjork of what needs to happen at Texas A&M, what clearly wasn't happening at A&M and what will happen now that a coaching search is underway.
"Here's the deal," Bjork said. "You're either moving forward or you're stuck. We were stuck."
Being stuck means going nowhere. A&M is only going to the bank to get rid of Fisher, who could buy an island with his absurd buyout money.
There are only four active head coaches who have won a national championship now – Nick Saban, Kirby Smart, Dabo Swinney and Mack Brown.
Saban is the best college football coach ever. Smart is arguably the most active recruiter among head coaches ever. Swinney had elite quarterback plays for his title runs. Brown won his with top-end QB Vince Young on a thrilling late drive back against USC more than 15 years ago.
Winning a national championship is extremely difficult. Nearly impossibly difficult.
Throwing $100 million at Fisher was not only preposterous and incredibly wasteful – he had a lower winning percentage than former coach Kevin Sumlin – but it also now sets the market for what the Aggies might have to pay their next coach or he might feel like he's taking a significant haircut.
"How many sitting head coaches have won national championships?" Bjork asked rhetorically Sunday night. "So everyone had tons of optimism (in Fisher, who won one at Florida State). But it goes back to the last couple years. Do we have momentum? Do we have hope? How do we see things trending? We just didn't see the trend lines improving.
"We thought let's make that decision now and deal with the finances, deal with what's going to come next and go out and hire a great coach who's going to have a great plan and be highly organized, hire the right staff. You combine that with A&M resources, we're going to win a lot of football games."
The problem is Texas A&M has never won a lot of football games, at least in recent times.
Texas A&M produced just one double-digit-win season during its time in the Big 12 (1998 under R.C. Slocum) and just one in the SEC (2012 under Sumlin). It has been the sleeping giant of college football for so long that the giant went to sleep and never woke up.
Bjork was right about another thing Sunday night though.
"The best leaders adapt," Bjork said.
"Are you in the left passing lane going 55 and everybody is zooming by you in the right lane or are you in the left lane going 75? You have to adapt. You have to evolve."
The good news for the Aggies is that this could be the turning point.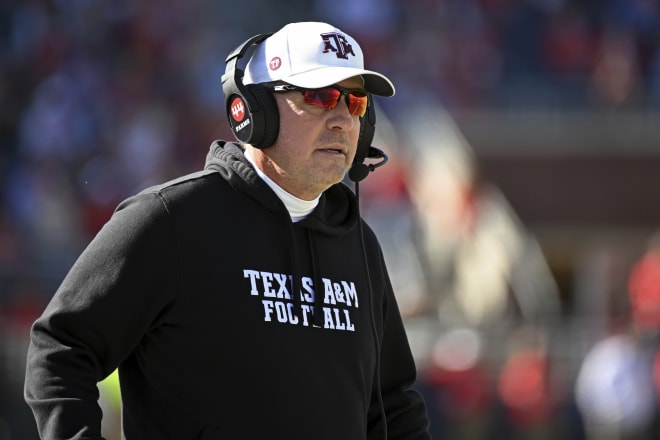 No longer is Fisher out there fumbling through 17 pages and notebooks to call the right play in an offense that was supposedly so complicated that even his players couldn't get it down. Then to bring in Bobby Petrino to call plays only to see the offense not markedly change much at all in terms of stats.
The new coach will inherit a defense loaded with elite – and I'm talking elite five- and four-star players – that are hitting their peak. That's if they're not all poached in the transfer portal.
There is skill on offense but more playmakers and more speed is needed. Bjork hinted at it and I'm saying it – run spread, go fast, play loose, get the ball up and down the field. Couple that style of offense with those hog mollies up front and the Aggies could be nasty.
A few years ago, Georgia had numerous No. 1 recruiting classes and those high-end players helped the Bulldogs to back-to-back national titles. Over the years, Alabama has had so many No. 1 classes you lose count and the Crimson Tide have won six national titles under Saban.
Texas A&M had the No. 1 recruiting class in 2022. The Aggies have finished in the top seven in three of the last four recruiting cycles.
This team has elite talent. The school has oil barrels full of money and in today's NIL world that matters more than ever. Everything is now in place for Texas A&M to finally make that title run.
"We sit here today not at the level we expect or we have the potential to be," Bjork said Sunday night.
He was right again. But that might soon be changing for the Aggies.